GaleMed awards 2021 Taiwan SNQ National Quality Label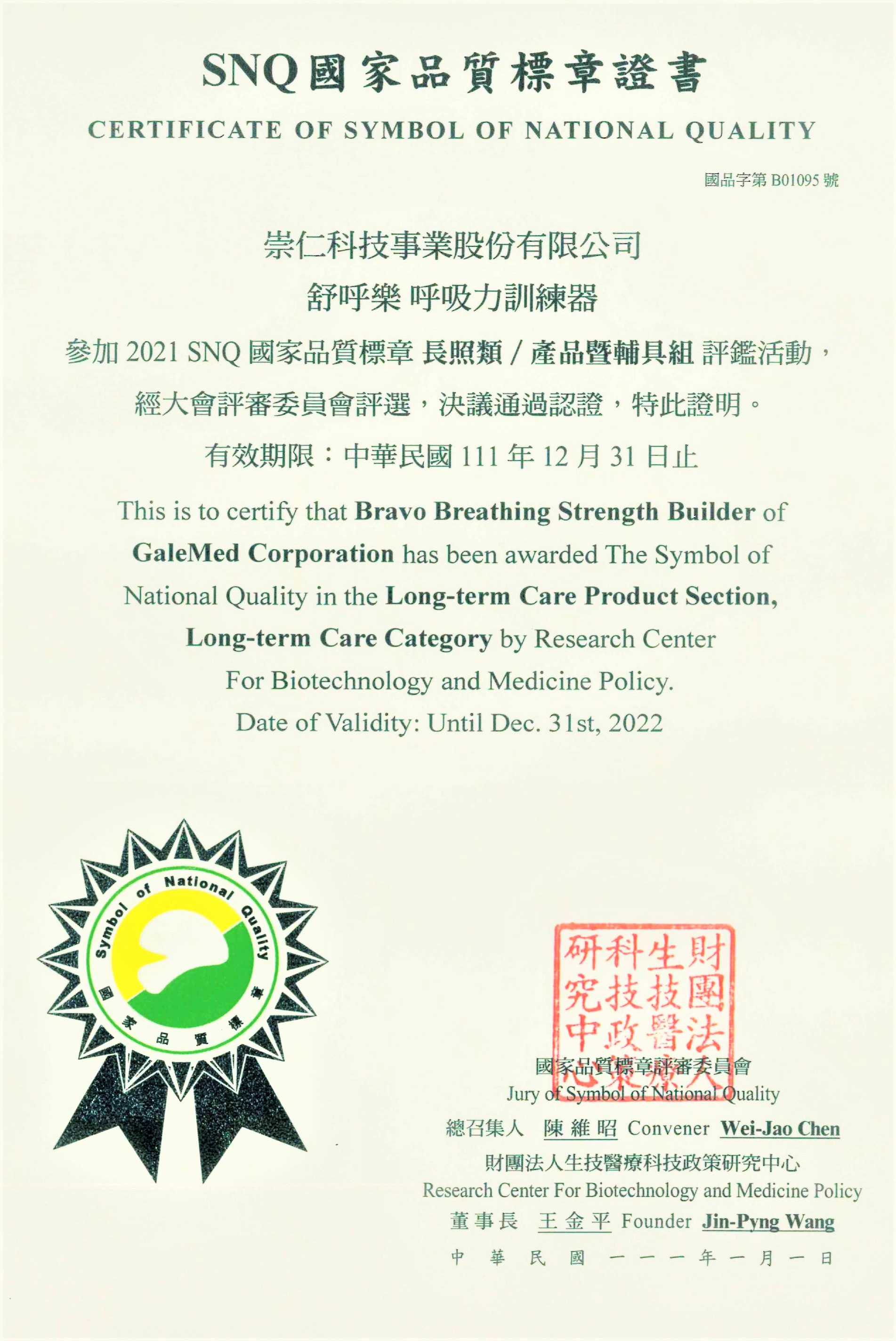 Congratulation!
GaleMed awards 2021 Taiwan SNQ National Quality Label.
SNQ represents the meaning of safety and quality, which is reviewed by experts, rigorous review mechanism, transparent information and evidence. GaleMed has passed administrative review, document review and briefing review. This also represents that the products developed and designed by GaleMed are not only guaranteed in quality, but also truly think for patients and give priority to providing the well-being of patients.
Award-winning Products
AL0020 Bravo™ Trainer(Green), AL0021 Bravo™ Trainer(Orange)
Quality indicator
ISO 5356 & ISO 5367
Bio-compatibility Test
Functional Test
Reliability Verification
Aging Verification
Process Quality Control (PQC)
Final Quality Control (FQC)

Quality control
1. To ensure that the products are properly monitored and measured at all stages of manufacturing to confirm that the products meet the quality standards, develop the "Q2-003 Inspection and Test Specification ", and comply with ISO 13485:2016 8.2.6 product monitoring and measurement requirements.
Preparation for Inspection -> Execution of Inspection -> Quality Determination -> Inspection Record
2. Standard operating procedures (SOP) and product inspection specifications are established during manufacturing, assembling and packaging to ensure good and consistent quality control at the factory.
Functional Test, Appearance Test
3. Process Management: In production and manufacturing, material supply and environmental control, etc., can meet the quality requirements to ensure smooth production and delivery, and in line with the requirements of ISO 13485, the development of "M2-001 process management specification". Comply with ISO13485:2016 7.5.2.1 manufacturing and service supply process confirmation & product cleaning and pollution control provisions.
Product introduction
Bravo™ Trainer
is a hand held product with inspiratory and expiratory threshold loading. Multi-use of design: muscle training, pursed-lip breathing training and yellow ball interaction design, improve training effect. Training level is different in accordance with the prescription.
Product usage
Improve the ability to inhale & exhale rapidly and maintain high lung volume. There was a significant improvement in maximum inspiratory capacity (Pimax) during exercise.
Reduce the number of breaths and air changes during exercise, which helps regulate the breathing pattern, thus reducing fatigue and allowing normal oxygen supply during exercise.
Effectively shorten the recovery time of athletes, accelerate lactic acid metabolism and relieve body pain.
Maintain a deeper, slower breathing pattern to improve the efficiency of the breathing and motor connection.
Improves the stability of core muscles.
Applicable groups
Breathing muscle training is widely used in various needs, including health promotion (sub-health), sports and music groups.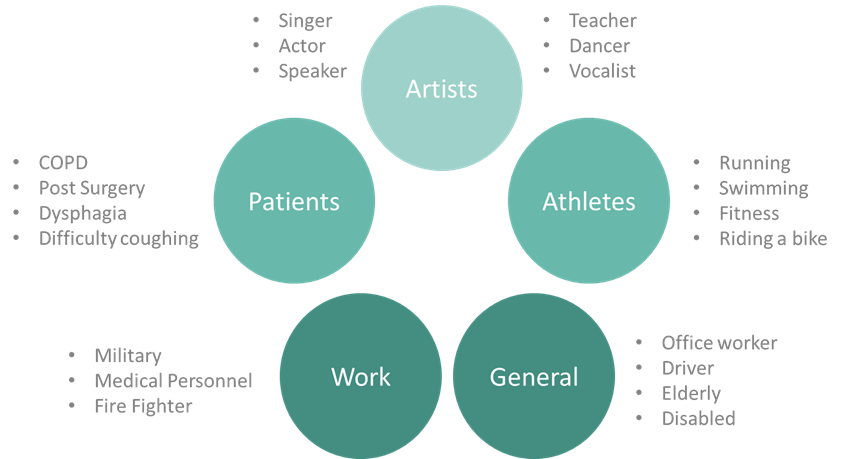 Instruction

By the trainer active breathing against the impedance, every day in the morning 30 breaths strength training, only 10 minutes in one cycle, maintain 5 days a week, for 4 ~ 8 weeks, gradually increase the impedance of the training intensity, skeletal muscle resistance exercise training. Please visit the product page for detailed usage and product